Engineering Days China 2020
A contribution to the spread of automated precast concrete production in China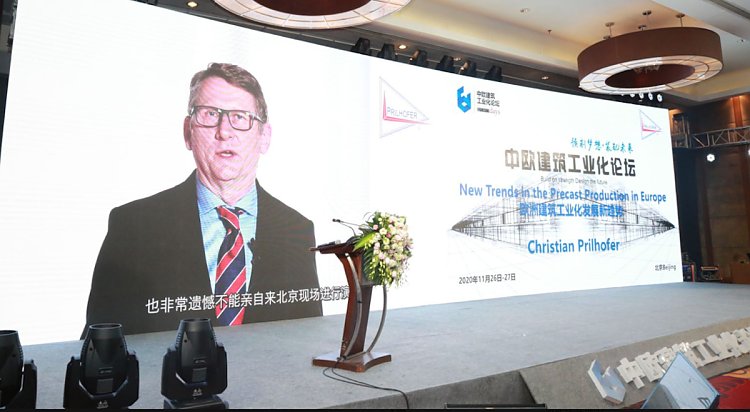 Since 2016, the Engineering Days have also been successfully held in China every two years. This year the event was held in Beijing from 26-27 November 2020 as a mixture of live and hybrid events.
In accordance with the guiding idea "High quality, sustainability, digitalisation, new building industrialisation", an innovative programme with lectures was presented together with leading companies of the precast concrete technology.
About 400 participants - top decision-makers from the largest companies in the construction industry in China attended the event in Beijing, and a further 10,000 people attended online.
10.000 people followed online the lecture of Mr. Christian Prilhofer about "New trends in precast concrete production in Europe".
Furthermore, all important Chinese institutes and universities participated in this event. Parallel to the conference there was an exhibition of the most important suppliers in the fields of formwork/circulation plant technology/reinforcement systems, automation technology, CAD, BIM and ERP systems.
The Engineering Days China has become an established discussion platform for Chinese real estate developers, construction companies and precast concrete manufacturers as well as for European technology leaders in the industry to present the advantages of industrial production of precast concrete elements.
This year's congress has again contributed to the increasing interest of the Chinese in precast concrete technology. All speakers underlined the need for industrial production of precast concrete buildings as the only way to lead China and the world to a sustainable and successful construction industry.
We would like to thank all our partners/organisers from China and Europe as well as the speakers for the excellent organisation and the valuable contributions at the congress in Beijing.
Our thanks also go to all visitors / followers for their interest in the precast concrete technology.
Further informationen: http://engineeringdays-china.com/enindex.php