Quality of living conditions with precast concrete elements
High noise prevention and very good thermal behavior
Apart from excellent sound insulation characteristics, the low thermal conductivity of reinforced concrete causes a balance between extreme temperature changes. In addition to that, precast concrete elements contain very low levels of moisture.
Noise-preventing characteristics of precast concrete elements
Reinforced precast concrete elements have excellent sound insulation characteristics. Noise pollution can be reduced significantly for the inhabitants without any additional expenses.
The surface of precast concrete elements can be shaped, by means of molds and form liners, in a way that they reduce noise and sounds.
Excellent thermal behavior of reinforced concrete
The mass reactance of reinforced concrete causes a balance between extreme temperature changes because it slows down the cooling or heating-up of the rooms. This means that the warmth of the day will be stored and released back into the room during the cool night. During the day the rooms are cool, thus reducing the cooling costs. This principle can also be applied in the other direction, when temperatures are high.
The continuation of this principle leads us to the intelligent precast concrete elements. Buildings with intelligent construction elements are able to isolate, heat or cool and in the best case are able to produce additional energy. Pipes for underfloor heating or overhead cooler, as well as solar panels can be embedded in the walls and floors.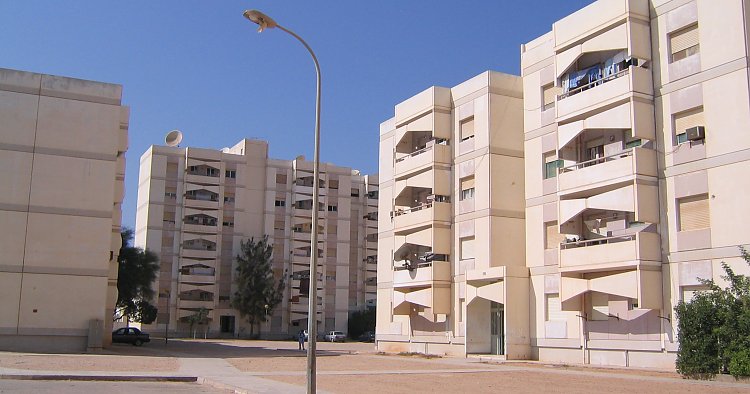 Lybia – Living in the desert
In desert areas, it is very cold at night. This cold is absorbed by the precast concrete elements at night and given off during the day. Due to these characteristics of reinforced concrete, apartment buildings in Lybia have always comfortable temperatures inside.
Technology-friendly and smart
Smart Home or an intelligent building requires the networking of building services and entertainment electronics:
Connection of home appliances (blinds/ shades, lighting, heating etc.)
Connection of electronic entertainment devices (video and audio)
Smart Meters (actual consumption of gas, electricity, water)
Processes are automated due to interconnected devices and systems, which reduces the tasks for the users of the building and optimizes the consumption. These optimizations lead to an improved quality of living and better working conditions in the buildings and a reduced energy consumption. These applications are realized very easily with precast concrete elements due to the prefabrication in the factory.
Low moisture content makes for a good indoor climate
Precast concrete elements are cured in curing chambers in the factory. When the elements arrive at the building site, they only have very low moisture contents. In order to prevent rotting and molding, the final buildings only need to be ventilated a little. This property increases the useful life of the building and improves the indoor climate.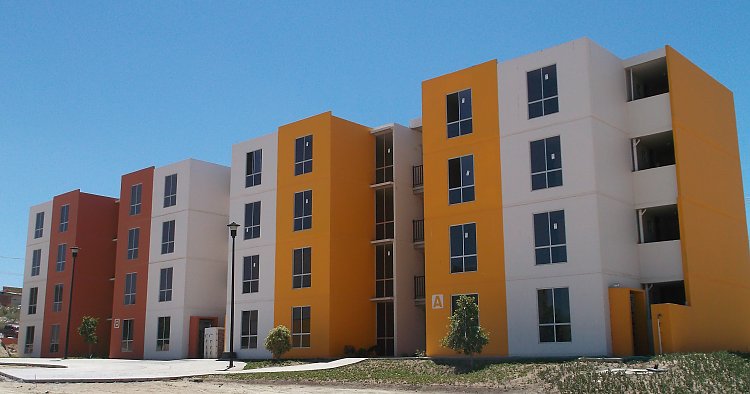 Mexico – Affordable Housing
Precast concrete elements have a high thermal storage capacity. The characteristics of precast concrete cause a balance between extreme temperature changes. This is of particular importance in regions with a hot climate – like in this housing complex in Mexico.