Modernization of existing precast concrete plants
State-of-the-art precast concrete production plants
Every aspect of life evolves. This is true for products as well as for production plants. Existing plants need to be adapted to remain state-of-the-art from time to time. This ensures the constant quality of the products, raises the productivity of the plant and makes the production of new precast concrete products possible.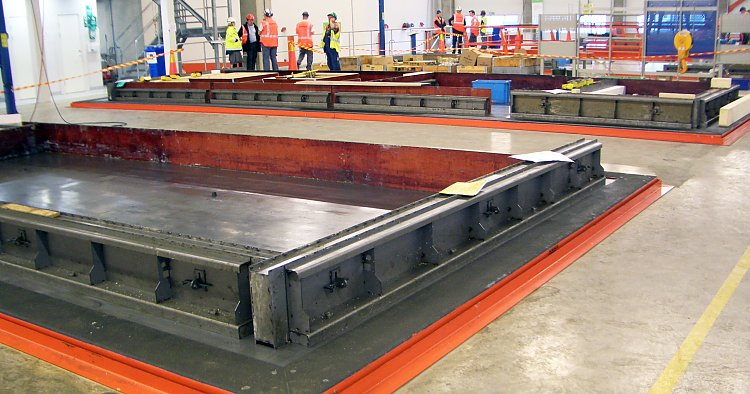 Modernization of machines
If your plant has been in operation for many years, it may be time to carry out a replacement investment or several preventive investments. Replacement investments need to be carried out if, for example, a machine is no longer functioning properly because of tear and wear, thus interrupting the production process or causing a production standstill.
Preventive investments are carried out in order to prevent production malfunctions or breakdowns in advance and avoid production downtimes.
We provide consulting and assist you in making your machines state-of-the art in an efficient and economical way in order for your plant to operate efficiently all the time and yield profits.
Latest technologies with Prilhofer Consulting
Over the years, the functioning of machines and technologies has made some progress due to the research activities of machine suppliers. Automation has also evolved rapidly over the last decades. Man-hours per square meter of precast concrete element are now less than one third of those of the 1980s.
We have the best connections to machine suppliers worldwide and are able to support you in implementing the latest technologies in your company so that you keep being one step ahead of your competitors.
New products for your precast concrete production
The new legal regulations in the field of energy efficiency and public funding for energy-efficient construction require the development of new products. This is the reason why the isolated double wall has been invented. In order to stay competitive and fulfill the demand for these new products, it is appealing for precast concrete plants to include them into their range of products and adapt their production plant accordingly.
We advise and assist you gladly to keep you well-prepared for the future.
Reference Projects
Elsäßer Reinforcement

(Germany)

Developing the best concept by considering more than just the plant equipment and therefore achieving an ideal solution for Elsäßer. Project management and supervision by Prilhofer Consulting ensured that the project was implemented in the shortest possible time. Intensive coordination of the planning made it possible to carry out the modernization in a way that was both technically beyond reproach and cost-effective. The impartial assessment of the solutions regarding the plant equipment was an important aspect for Elsäßer.

2012

New shuttering robot for innbau

(Germany)

Since 1996, innbau operates a production plant (automated carousel system) for lattice floor slabs which was designed by Prilhofer Consulting. The plant runs in a two-shift operation since that date. For this reason, it was time to replace the shuttering robot. With increasing complexity of the geometries, the shuttering robot has become more and more the bottleneck of the plant because it only has a doublebar gripping device.

2017